1. Gates of spiritual Vyrdin (00:55)
2. Mein Wesen ist eins mit dem Schmerz der Natur (07:20)
3. Die Menschheit ist nichts ohne die Natur (03:48)
4. Philosophie der Depression (05:01)
5. In dorniger Finsternis wurde der Weltenschmerz geboren (7:28)
6. Dies ist ein Pfad an dem ich dich vor einiger Zeit verlor (13:06)
7. Winterliche Teilnahmslosigkeit (01:11)
8. Ein Teil meiner Essenz wird hier immer verweilen (04:09)
9. Ein Gefühl der Apathie im sterbenden Universum (02:13)
10. Melancholie 25.01.2009 (04:07)
11. Schmerz und Leere werden immer ein Teil von mir sein (15:48)
12. Philosophie der Depression (Video) (03:43)
Recorded at MOLOCH studio (Ukraine) in Winter 2008-2009. All music and lyrics were written and recorded by Sergiy Fjordsson. All instruments were recorded at Moloch studio (Ukraine). All vocal parts recorded live in the woods of Ploskyriv. Video recorded in the forest of Ploskyriv by Sergiy Fjordsson (Camera operator, concept) and Vargamor (model on video) in Winter 2009. Video "Philosophie der Depression" is a first official video clip Moloch. This video should NOT be perceived in terms of banal suicide. The idea implicit here is a deeper journey into yourself and resonate with the world around us. All elements here have a many metaphors. And to understand them, you should ignore the primitive thinking... One of the most cursed album Moloch. Many failures were accompanied by the album on the way to publication. This album was originally positioned as full-length 2009, and was planned for release on Blackmetal.com in September 2009. Then the release date was postponed to April-May 2010. But due to the label's financial problems this release was canceled. As a logical continuation of other albums and depressive winter atmosphere of dying 2009 was important to release this album in 2009. In fact they were released officially only in 2011. Album was scheduled to record with real drummer (female drummer Helga from project Gjollheimr), but when the majority of parties was recorded, the PC virus destroyed most of them, together with the first mastering version of some tracks. As a result, half of the tracks on the album are present with real drums and half with programmed, as well as many of the tracks comes completely unmastered.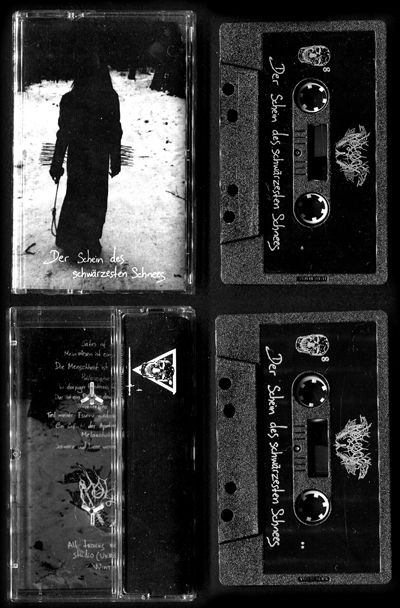 First press cassette only. Edition of Wohrt Records (Usa). Printed in 2011. 100 black cassettes with silver print, vinyl sticker, 2 sided b/w pro-cover and silver slipcase with Moloch logo. Cat. Number: 8. When Wohrt Records released this Tape, Sergiy Fjordsson also spread some hand-made boxsed sets via Depressive Illusion Records shop. A wooden box with original cassette from Wohrt Records, 2 stickers, rope, A3 poster, 2.25 inch pin, 4 patches and CDR with video clip. Limited 9 copies only.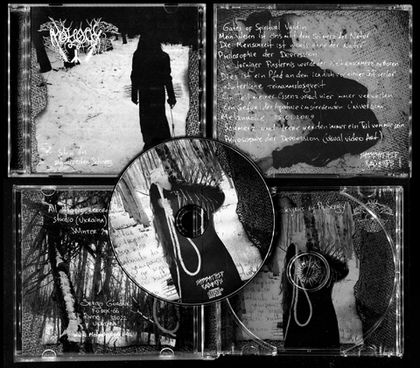 Was planned to be released in April 2011, but due to the Japan Disaster this CD version released only in Autumn 2011. 6 pages b/w booklet, limited to 500 copies. Japan label Sabbathid Records (label changed name and now known as Sublime Recapitulation Music). Author's copies were arrested by customs in Ukraine and the label had to re-send them again... Cat. Number: hoof067. Matrix code: hoof067 I-DF10009; Mastering SID Code: IFPI LB80 110906194N
Mould SID Code: IFPI 2N04.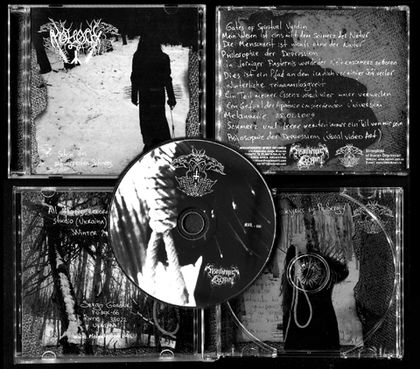 This is edition of Misanthropic Spirit Records (Argentina). CD limited to 1000 copies with 8 pages b/w booklet. Part of the copies were destroyed in the flood warehouse where they were at that time. Cat. Number: MSR-006. Matrix code: MEGADISC MD6398 INDUSTRIA ARGENTINA; Mould SID Code: IFPIQ5M1; Mastering SID Code: IFPI LL02.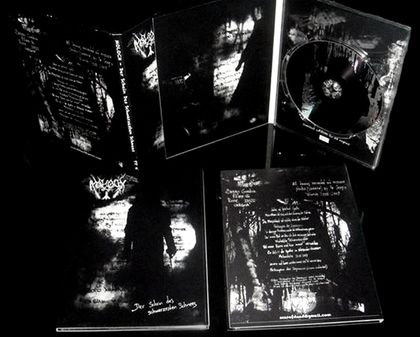 This is edition of Predator Records. Pro-CDR in A5 digipak limited to 33 copies. Printed in 2013. Car. Number: PP005.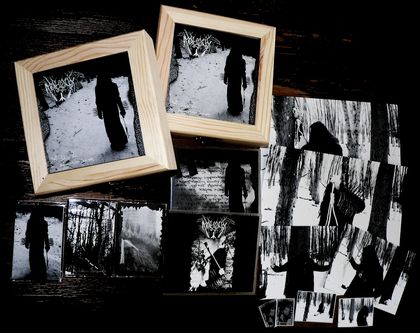 This is boxsed set edition of Fallen Angels Productions (Korea). Printed in middle of 2013. Limited to 30 copies (15 in black and 15 in wooden color). Wooden box includes mini rope, 10 stickers, patch, inlay cards, 3 TAPE's, 2 CDR's, 1 3'CDR:
- "Der Schein des schwärzesten Schnees" (original album tracks) TAPE
- "Der Schein des schwärzesten Schnees" (original album tracks) CDR
- "Misanthropie ist der einzige Weg zur Reinheit" (original album tracks) CDR
- "Traurer" (original album 2008) TAPE
- "Philosophie der Depression (Visual video Art)" 3'CDR (includes original and old unpublished version of video clip)

- "Rehearsal Fracgments" TAPE (includes rehearsal tracks 2008: "Intro" 00:17; "Dark Side of human Depression" 02:54; "O thou woe, my woe…" 03:57; "Untitled 1-2008" 04:08; "Untitled 2-2008" 08:06; "Untitled 3-2008" 01:02; "Untitled 4-2008" 04:22; "Untitled 5-2008" 03:21)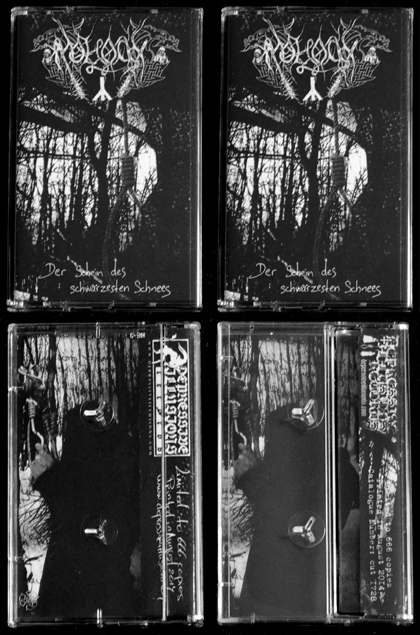 This is edition of Depressive Illusion Records. Printed in August 2014. Limited to 666 copies: 333 printed in August 2014 and 333 copies with minor design changes printed in October 2016 with minor changes in the design. 2 sided b/w pro-cover. Catalogue number: cut 1728.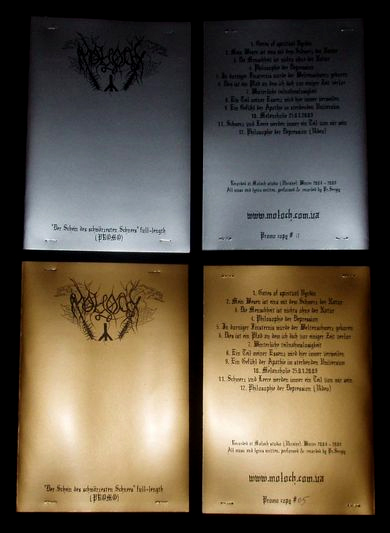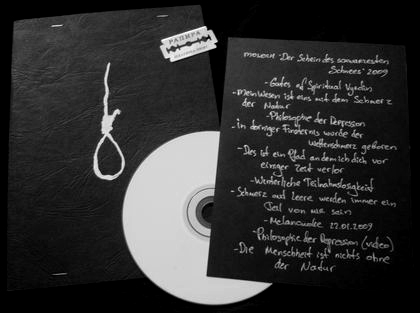 Since the album was recorded in 2009 and official publication was only 2 years later, in the period between 2009-2011 were spread some promo CDR copies: 30-50 copies in gold, silver and silver/white A5 package (some copies with patch) and 10-20 copies in black A5 package with razorblade and hardwritten info (package with hand-painted noose on the front). Were spread free in trades worldwide, then as free stuff with the orders from Depressive Illusion Records shop. In Japan were spread via S.A. Music shop.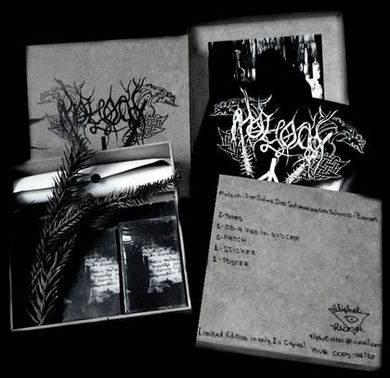 Bootleg release of album were made in 2014 by Qliphot Records (Brazil). They printed Boxsed set with my permission, but never send copies to the band. Due this reason i decided to call this release as "bootleg".
Digital version of this album officially distributed via Moloch bandcamp page only and included bonus track"Dark side of human depression" (recorded as a part of rehearsal album session).
No vinyl edition of this album at the moment.
.