- Nifelheim (16:38)
- Muspelheim (10:21)
- In einer Umarmung von tiefen kalten Wäldern (08:04)
- Kälte und Verwüstung im Echo eines sterbenden Winters (05:15)
- Im Schnee (01:46)
- l (04:15)
- ll (03:53)
- lll (01:50)
- Untitled l (03:49)
- Untitled ll (02:46)
- Erblicket Die Töchter Des Firmaments (Burzum cover) (07:25)

Tracks 1/2 is a "Heim-Dallr" EP 2007
Tracks 3/4/5 is "In einer Umarmung von tiefen kalten Wäldern" EP 2010
Tracks 6/7/8 is a "Apathisches Licht von einem rotschwarzen Horizont" EP 2010
Tracks 9/10/11 is a "Visionen einer Ewigkeit" Demo 2010
THis is CDR edition of Le Crépuscule du Soir Productions (France). CDR with sticker in A5 package. Limited to 50 copies. Catalogue number: lcds022. Inlay photos were made by the label owner.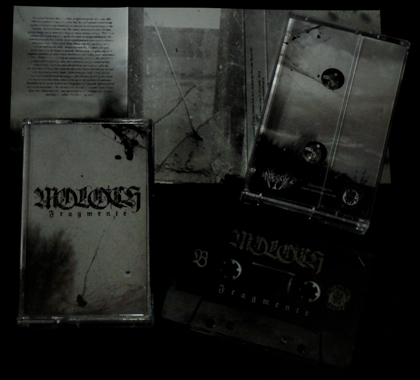 This is cassette edition of Flossless Audio Records (USA). Printed in 2015. Limited to 100 copies on black pro-tapes with black/white 2 sided pro-cover inlays. This tape edition comes with new cover art (all photos were made in the abandoned village near Rivne region, Ukraine) and different track list:

Side A
- Nifelheim (16:34)
- Muspelheim (10:06)
- Todesstille (05:16)
- Verwüstung (11:04)

Tracks 1 and 2 taken from "Heim-Dallr" ep 2007. Tracks 3 and 4 taken from "Verwüstung" album 2014. Recorded on Reel-to-reel/open-reel [audio] tape recorder in MONO mode somewhere in the dungeons. Mastered at Moloch studio. All sounds represent a real time-recording experiment, along with background sounds of the open place and atmosphere/effect of the place acoustics. Tracks 1/2 recorded in Autumn 2007, tracks 2/4 - between Winter 2012-2013. Mastered at Moloch studio (Ukraine).
Side B
- In einer Umarmung von tiefen kalten Wäldern (08:04)
- Kälte und Verwüstung im Echo eines sterbenden Winters (05:15)
- Im Schnee (01:46)
- I (04:15)
- II (03:53)
- III (01:50)
- Einsamer Platz Zu Sterben I (06:00)
- Einsamer Platz Zu Sterben II (06:28)
Tracks 1/2/3 is a "In einer Umarmung von tiefen kalten Wäldern" ep 2010. Tracks 4/5/6 is a "Apathisches Licht von einem rotschwarzen Horizont" ep 2010. Tracks 7/8 is a "Einsamer Platz zu sterben" ep 2013. All tracks recorded between Autumn 2008 - Winter 2012 somewhere in the woods. No clear sound here, but primal embodiment of the natural unconscious energy coming from the outside.