MOLOCH:
- Einklang 00:56
- Negativität 04:10
- Nur der Tod ist wirklich 04:40
- Die Kälte der Ewigkeit 04:20
- Ausklang 02:29
KRIEG:
- Axiom I 02:13
- Ambergeist 03:55
- All Paths to God 04:33
- Under an Uncaring Moon 05:13
- Axiom II 02:19
Split release with Black Metal band KRIEG. Moloch tracks taken from "Verwüstung" album 2014 (Ausklang/Einklang take from vinyl version). Krieg tracks taken from "The isolationist" album 2010 and "Blue Miasma" album 2006.
Axiom l & ll made by D. Martin.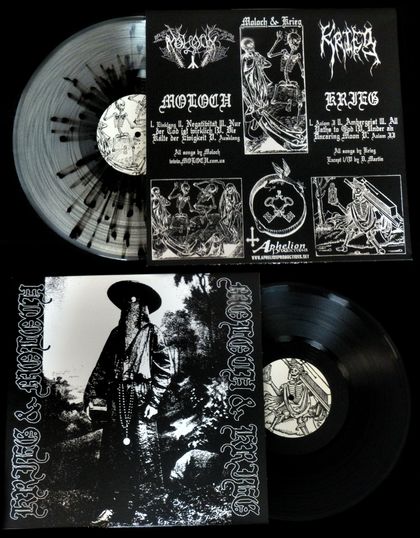 This is vinyl edition of Aphelion Productions (U.K.). 12'LP vinyl in 2 versions: 100 copies on Clear/Black splatter and 400 on standard black vinyl. Vinyl mastering and cover design were made by Sergiy Fjordsson. Matrix / Runout (Side MOLOCH [Stamped]): 120033E1 / A. Matrix / Runout (Side KRIEG [Stamped]): 120033E2 / A.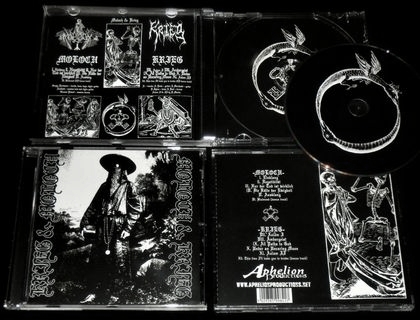 This is CD editions of Aphelion Productions (U.K.). Limited to 1000 copies with 4 pages booklet and with 2 bonus tracks: Moloch "Blutmond" and Krieg "This time I'll leave you to drown". Barcode: 5029385998417; Mastering SID Code: CA AP083 @; Mould SID Code: IFPI 1258.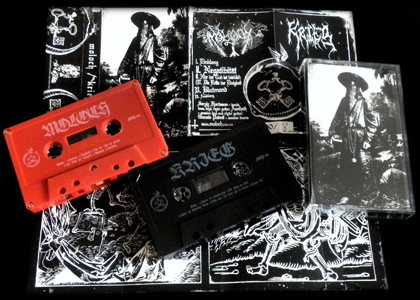 This is cassette edition of Satanik Wolfchamber Prod (Usa). Limited to 200 copies. Black Pro-Tape. Die Hard edition for first 66 copies comes on Red Pro-Cassettes with Poster 12x18" plus two faux leather embroidery logo patches (red, gold and white colors) one by each band (Moloch 4x2 1/4", Krieg 4x4").