Moloch
1. Depressive Visionen eines sterbenden Horizonts
2. Ein Schweigen

Koltum
3. War isnt end
4. Decadence of the Traitors
5. Extrmination of Humanity

Silberbach
6.Tragt Feuer in die Taler
7. The silence of the forest
Mourning Soul
8.Extinction Prayer
9. Life Torment
4-way split with Koltum, Silberbach, Mourning Soul. Moloch tracks recorded between Winter 2009-2010. First track taken from upcoming at that moment album "Isolation der Essenz", second (Dark Ambient) track recorded special for this split. Koltum tracks recorded in their rehearsal room, except the Drum, that was recorded in Studio213. Porcus was a special guest for the voice on track 3. Silberbach tracks recorded during a cold Winter night in January 2010 anno Sathanas at MSA. Mourning Soul tracks recorded, mixed and produced at Necrolust studios by Mourning Soul. Mastered at Tailor Maid (Sweden) by Peter in de Betou.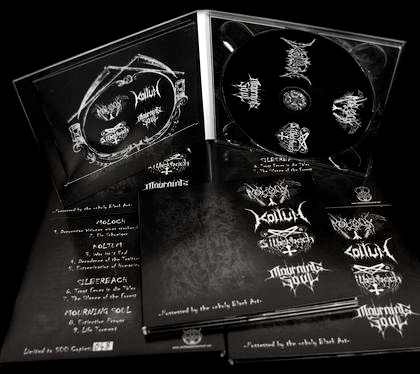 This is Digipack CD edition of Christhunt Records (Germany). Limited to 500 copies with 8 pages b/w booklet. Matrix code: W91022 wwwpresswerk.de, Mastering SID Code: IFPI LD02, Mould SID Code: IFPI 5J36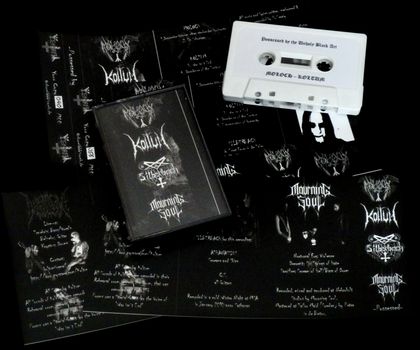 This is cassette edition of Oscorei Bild und Tonkunst (Germany). Printed in same year. Limited to 500 copies with 2 sided b/w pro-cover inlay and stickers on white cassette. Copies that are distributed via bands don't include tape stickers.