- Illusion des Winters (07:53)
- Wenn der Herbsthimmel ergraut ist (03:55)
- Meine ganze Hoffnung stirbt (04:53)
- Ferne Wälder gehen im tiefen Herbstnebel verloren (03:31)
- Meine einsame Essenz fliegt zu den Sternen (04:27)
- Ein letzter Atem der Natur (04:28)
- Ausklang (01:33)
This is experimental piano ambient EP. Recorded at MOLOCH studio (Ukraine) by Sergiy Fjordsson between Winter 2009 - Spring 2011.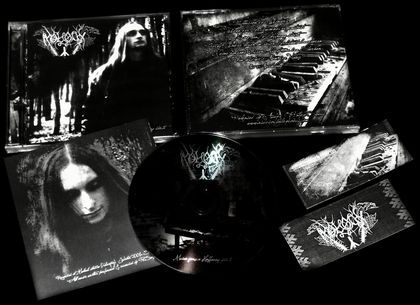 CD (better to say Pro-CDR) version were made in 2011 by the label from Germany, that oriented on Acoustic Music, Classical Music and Black Metal - Ashes of Paltry Souls Records. Limited to 100 copies (and this was the first label release). 4 pages b/w booklet with 2 stickers and pin. All photos that were used in the booklet (except Sergiy's photo, that was made in the woods of Ploskyriv) taken from photo archive of Chernobyl tragedy (photo with piano was made in an abandoned school at the territory of the dead city Pripyat). Author unknown.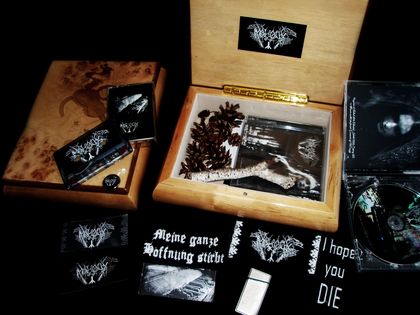 When Ashes of Paltry Souls Records released this EP, Sergiy Fjordsson start to spread some hand-made boxsed sets via Depressive Illusion Records shop. A wooden box with awesome laser engraving somes with original CD (Ashes of Paltry Souls Records edition), 3 stickers, logo patch, "Hope you die" patch, "Meine ganze Hoffnung stirbt" patch, pin, A3 poster with front cover motive, branches and fir-tree cones from the woods of Carpathia, metal lighter with engraving words "Meine ganze Hoffnung stirbt" and TAPE "Piano Rehearsal 2009" with 2 old unreleased tracks: "Untitled piano rehearsal l" (5:29), "Untitled piano rehearsal ll" (4:06). Limited 9 copies only (but possible less or more, i dont remember).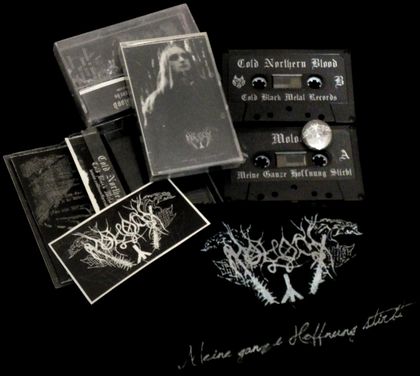 Tape version were made by Cold Northern Blood Records (Canada). Limited to 100 copies with printed patch, sticker and pin. Black tapes with stickers, b/w pro-cover inlay and special shatterproof cases.

Here are few more tracks were recorded, but due lack of quality they stay in archives. Possible later they will be available in remastered form. Also all tracks from this ep, as well as few additional tracks were rerecorded on upright piano in local musical school, but still remain in the archives and may be published in the future.

Digital version of this album officially were distributed short period of time via Moloch bandcamp page only. Possible will be available again in remastered version.

Here are no Vinyl and CD (not CDR) version for this EP at the moment. But two songs you can find on the "Isolation der Essenz" double 12'LP.