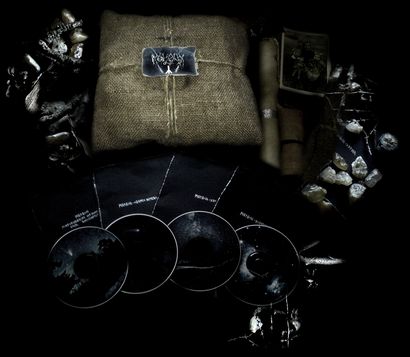 Boxsed set released by De Profundis Productions (Ukraine) in 2009. Limited edition to only 12 copies. Includes original ancient photos of dead people, parts of old rusty barbed wire, witchered triticum, parts of the ancient clock mechanism, various rocks from Syberia region (rock crystal, quartz, turquoise, chalcedony, rhodonite, perelivt etc.), fir-tree cones from Carpathian and Syberian woods, branches from Scandinavian, Russian and Ukrainain woods, various inlays, 3'CDR and four CD-R's (each is in separate black envelope stitched manually by silver strings). Each boxset is rolled up in a ancient sackcloth. It is tied up by ancient sackcloth string, inlaid by a logo card and numbered by incrustation with pats of ancient clock.



CDR 1: "Galdr"


CDR 2: "Ginnungagap"
- Ginnungagap
Were recorded on Reel-to-reel/open-reel [audio] tape recorder in pseudo-stereo mode with massive analogue dronning noise and bass lines. All music/song structures were written and recorded by Sergiy Fjordsson at Moloch studio (Ukraine), during the Autumn 2008. Recorded in the same place and with the same equipment as the album "Galrd".

CDR 3: "Echo einer Winterkälte" (original two-track EP)
- Das ist in Vergessenheit geraten
- Durch Schwarz silberne Hallen eines sterbenden Winters
CDR 4: "Cosmic depression" (with different mix)
- Nifelheim
- Endless winter
- Herbst
- Endless Autumn
- Muspelheim
3'CDR (includes video clip "Morast", exclusive photos of Sergiy, lyrics and unreleased tracks "Uralte Kosmische Trauerrede" 07:28 and "Echo of Hyperborean Wisdom" 07:00).