- Plague l (05:26)
- Plague ll (06:36)
- Plague lll (03:54)
- Plague lV (03:49)

Originally recorded by Sergiy Fjordsson on Reel-to-reel/open-reel [audio] tape recorder at Moloch studio (Ukraine) between Autumn 2009-2011 as a part of "Isolation der Essenz" recording session. This tracks taken from original master reels, unmastered, raw and crude and comes with original work titles. Later all this tracks were included in "Isolation der Essenz" album (and "Die Isolation" EP) in remastered form with new names. All photos for cover art inlay were made in the woods of Ploskyriv by Unknown Spirit during endless night.


The name of this EP "Depressive Black Metal Plague" should NOT be perceived in terms of any connections with modern DSBM way. The real name concept - a plague, that come from the depressive essence of the primal Black Metal.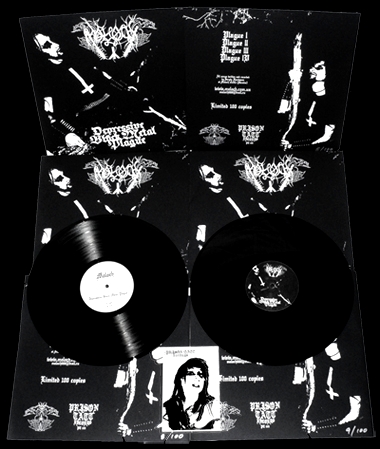 This is vinyl edition of Prison Tatt Records (USA. Label are neither a "noise label" nor a "metal label," not by the expected definitions or protocols. The eclecticism that falls under the banner of "extreme" sounds, horror films, anger and nihilism, opposition to authority, notions of self-destruction and despair, and most importantly, the mind-fuck that is escapism by way of one's most-favored music, are all on the table as aesthetic guidelines. To cover "head music" and "hard music" with equivalent enthusiasm. The label closed in 2017 with the passing of its proprietor - the Great Man: Wm. Berger (R.I.P.)). One side black 12'LP vinyl with black-white silk screen cover (silkscreened by Seizure Palace). Cat. Number: PT029. Limited edition to 100 copies + 5 test press copies. Some copies with Prison Tatt Records sticker.Matrix / Runout (Side A [scratch]): L-21655-M-A PT-029-H "OUR VIEW IS ONE SIDED".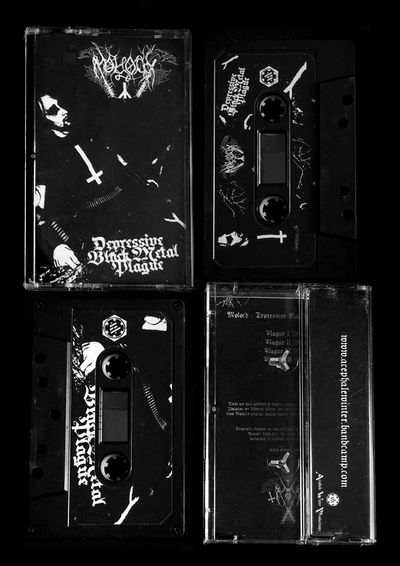 This is cassette edition of Acephale Winter Productions (A Bay Area based label dedicated to the release of unique and original black metal with the occasional experimental or ambient releases). Printed in September 2013. Limited edition 100 copies (or more, i dont know). B/w pro-cover inlay with tape stickers. Mastering for this tape release were made by the label. Catalogue number: AWP005.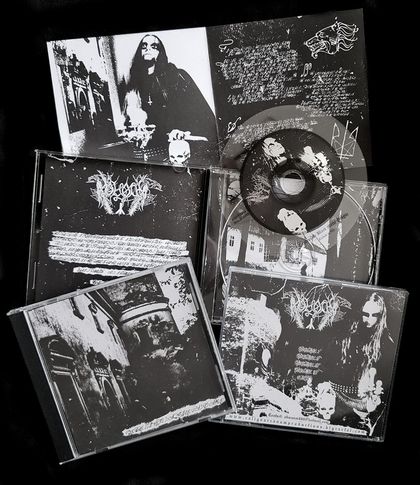 This is CD edition of Caligo Arcanum Productions (Mexico). Made in 2021. Limited to 33 copies on Translucid transparent CD with 4 pages cover. Jewel case. This edition incl. bonus track "Outro" (01:10) but this track do not play on many players and concidered as "hidden track".