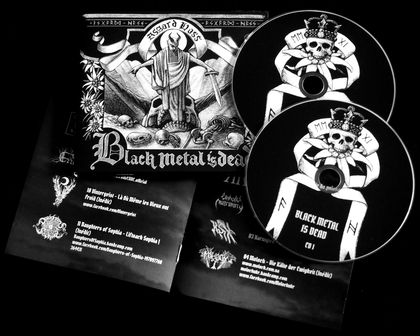 CD I
1.Dux – Black Metal Is Dead
2.Lugubris – Messe Noires
3.Mortifera – Poésie Des Oubliés
4.Pure – Darker Than My Heart
5.Malcuidant – Morts Et Merveilles
6.Wacht – Summa Universalis Numinis
7.Shaddaï – Onanic Rites (A Song For The Devil)
8.Faustrecht – Exrpressionnisme
9.Ende – Dem Glemte Skogen
10.Vintergesit – Là Où même Les Dieux Ont Froid
11.Daughters Of Sophioa – Liftoach Sophia !
CD II
1.K Amon K – Un Signe Clair De Puissance Sans Discussions
2.Unholy Matrimony – Le Porteur De Malheur
3.Haruspex – Haruspex
4.Moloch – Die Kälte Der Ewigkeit
5.Négatif – Les Bûchers Des Infidèles
6. The True Endless – The Yoke
7. Ruines Humaines – Tristesse Et Tourment
8.Orthanc – Aigle Conquérant (SV Cover)
9.Myrkvid – Four Spikes… And Die !
10.Augure Funèbre – Vil Mécréant
11.Thergüu – Goat
Digipack 2xCD Compilation. Released by Asgard Hass / La Horde Noire Release. Limited edition unknown. Moloch track taken from "Verwüstung" album 2014.