Moloch:
- Ornamente des Todes (Ornaments of Death / Орнаменти Смерті) (10:34)
Nocturnal Depression:
- Høst (06:09)
Split with Depressive Black Metal formation from France Nocturnal Depression. All music and lyrics on Moloch side written & recorded between Autumn/Winter 2015-2016. All Guitars (Lead, Rhythm, Acoustic), Bass (Acoustic, Distorted) and Vocals recorded at S.o.h.D. studio (Ukraine) by Sergiy Fjordsson. Drums recorded at BeastCave Studio (Italy) by Gionata Potenti. Mixing at Abgrund-Tonstudio (Germany) in February 2016. Mastered at Black-Square-Music-Studio (Finland) in March 2016. Nocturnal Depression track is a version of 2015 recorded during "Spleen Black Metal" session. Original found on "Four Seasons to a Depression" (2006). Recorded with Avskrius, Krahne, Morkhod and Lord Lokhraed.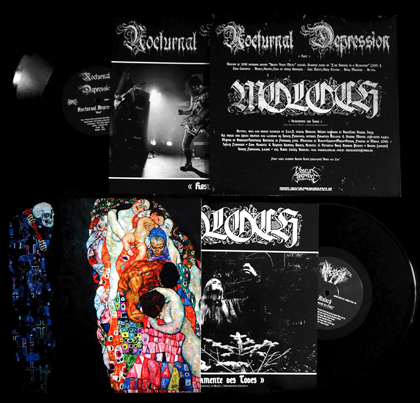 Released by Obscure Abhorrence Productions (Germany) on black 10"MLP with inlay, limited to 500 copies. Matrix / Runout (Side A [Stamped]): 148469N2/A; Matrix / Runout (Side B [Stamped]): 148469N1/A.