- Todesstille (05:17)
- Blutmond (04:32)
- Spiritueller Selbstmord (05:38)
- Negativitat (04:10)
- Nur de Tod ist wirklich (04:40)
- Die Kalte der Ewigkeit (04:20)
- Du bist nichts in dieser sterbenden Welt (04:43)
- Verwüstung (11:04)

- Frédéric François Chopin symphony (hidden track)*


"Verwüstung" is dedicated to Varg Vikernes.
Music written and recorded between Winter 2012-2013. Lyrics written between 2002-2006. Translated to old english and latin languages in 2013. Bass, Vocals, Keyboards, Rhythm Guitar recorded at S.o.h.D. studio, Ukraine. Autumn/Winter 2013 by Sergiy Fjordsson. Rhythm and Lead Guitars recorded at Fields of Tears Studio, Poland. Winter 2012 by Azathoth. Drums recorded at BeastCave Studio, Italy. Autumn 2013 by Gionata Potenti. Mastered at Alex Menabde studio, Georgia. December 2013 by Alex Menabde. Booklet painting by Odilon Redon (Bertrand-Jean Redon (1840-1916). *Hidden track is a Frédéric François Chopin symphony. Marco Ceccarelli was intended to be the drummer on this album for the first time. Some samples even were recorded, but never used. Pre-album demo version with programmed drums also exists, as well as the various versions of mastering of whole album. All this demo versions forever will stay in archives. And only one track "Nur der Tod ist wirklich (demo version)" available via Moloch Bandcamp as bonus track.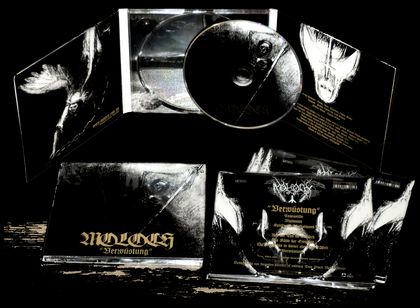 This is European CD edition of Human To Dust Records (Germany. Label run by Jay Graves). Standart 3 panel digipack limited to 400 copies (barcode: 4250088503320; matrix code: 00095 53429 245 01 * 53429248; Catalogue number: HTD666018b) and gold print digipack limited to 100 copies (barcode: 4250088503313; matrix code: 00095 53429 245 01 * 53429248; cat-number: HTD666018b; Mastering SID Code: IFPI LV26). CD included hidden track 10 "Frédéric François Chopin symphony"* which begins to play after 21:23 minutes of silence.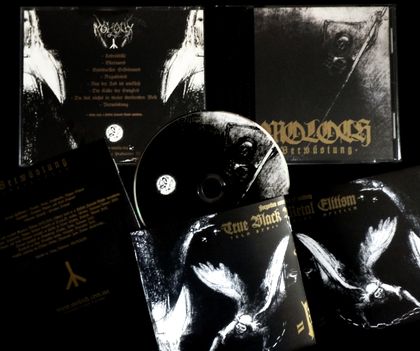 This is Japan/Asian CD edition of Hidden Marly Records (Japan). Limited to 500 Jewel Case copies with OBI-strip. 8-pages booklet. CD also included track "Frédéric François Chopin symphony"*. (Barcode: none; matrix code: D126621 A 9C; Catalogue number: HMP021; Mastering SID Code: IFPI LT027; Mould SID Code: IFPI TA701)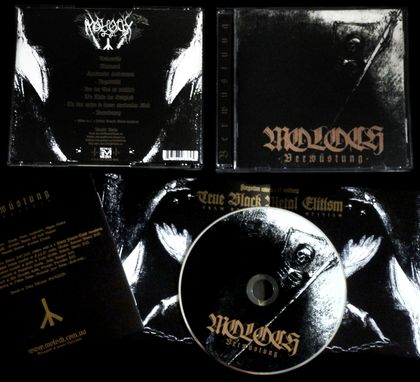 This is CD edition of Metallic Media (Usa). Limited to 500 Jewel Case copies with 8-pages booklet (almost the same as edition of the Hidden Marly Records). CD also included track "Frédéric François Chopin symphony"*. (Barcode: 827166263625; matrix code: CA/ - DGR - 1875 Moloch - 54898; Catalogue number: metallic026; Mould SID Code: 158B)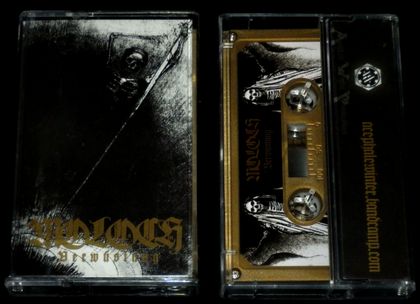 This is tape edition of Acephale Winter Productions (Usa). Limited to 50 copies with gold print inlay and gold-like color cassette. Catalogue number: AWP011.

This is edition of Nocebo Records (Switzerland. Label owner are the man behind Voidstar project) Absolute amazing picture 12'LP vinyl, limited to 247 copies. Can. Number: three. This edition does not include tracks "Todesstille' and "Verwüstung", but instead includes tracks "Einklang" & "Ausklang" that were recorded special for this edition. While the printing of this vinyl a small problem happend. The first plant, which was originally planned to print it, refused to cooperate, because of the inscription "Thanx to Varg Vikernes" on the cover. So label had to find a new plant for print, where vinyl was made, but the inscription had to be removed.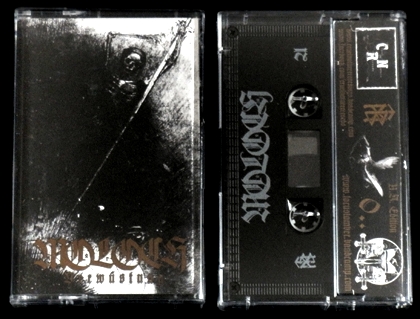 THis is edition of Cruel Nature Records in cooperation with Locust Amber Records (U.K.). Limited to 56 copies with 2 sided pro-cover inlay and black pro-tape. Catalogue numbers: CN043 / LAR009.
This is edition of Grimoire Cvlture Records (Usa). Limited to 100 copies with gold print cover inlay and pro-tape (50 black and 50 gold color cassettes). Tape packed in black box with gold embossed logo Moloch on front and label sticker inside. Catalogue numbers: GCC-027.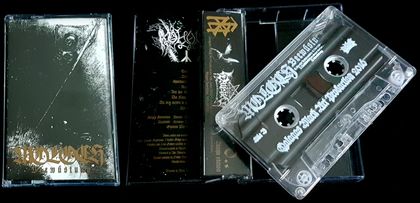 This is Asian tape edition of Qalaqas Black Art Productions (Malaysia). Limited to 100 copies with color 2 sided pro-cover inlay and pro-tape. Catalogue number: QBAPT-06.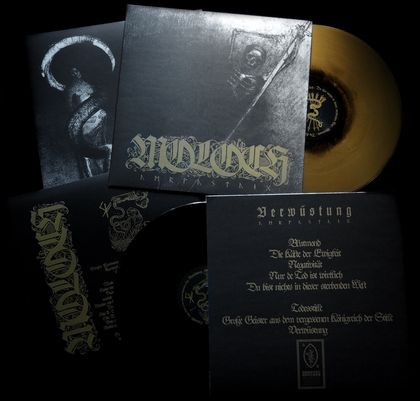 12'LP vinyl edition by Argento Records (The Netherlands). Limited to 300 copies (150 black and 150 Black/Gold haze colors + few test press copies). Enclosed in a luxurious black, white, and gold heavyweight jacket with printed inner sleeve. Die-hard copies, wax-sealed also were available via label only. Vinyl comes with remastered version of album and different track order than on other editions (Track "Du bist nichts in dieser sterbenden Welt" have different length, bass intro were cut and re-recorded; track "Spiritual Selbstmord" are missed and new unreleased track added "Große Geister aus dem vergessenen Königreich der Stille" 06:32, recorded during original "Verwüstung" record session). All tracks Re-mastered by Brad Boatright at Audiosiege Studios, Usa. Endless May 2016.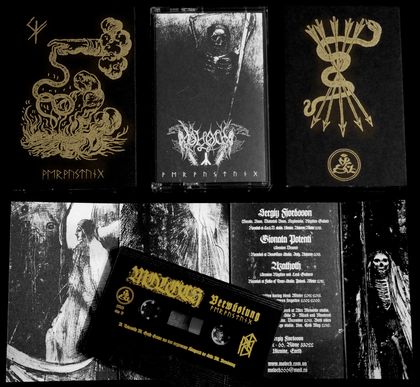 Cassette edition by Urtod Void (Germany). Limited to 55 copies. Black pro-tape with gold ink print, b/w pro-cover inlay and screen gold printed O-Card/Slicase. Tape comes with the same track list as on the previous vinyl version from Argento Records.
Digital version of this album officially distributed via: Moloch bandcamp page (was distributed wth bonus track: Nur de Tod ist wirklich (demo version) 04:40 a short period of time but was deleted in the end of 2016 from free download), Acephale Winter Productions bandcamp page (special tape mastering), Grimoire Cassette Cvlture, Cruel Nature Records (also with tape mastering), Argento Records bandcamp (remastered one) and Depressive Illusions Records bandcamp page. All digital versions does not includes "Frédéric François Chopin symphony" (hidden track). Stream-only officially also available via Moloch soundcloud page. All other free-download pages are illegal.