- Gates of spiritual Vyrdin (00:55)
- Ljosalfaheimr (04:53)
- Svartalfaheimr (02:24)
- Asaheimr (04:29)
- Jotunheimr (02:55)
- Helheimr (02:01)
- Vanaheimr (01:04)
- Elivagr (03:03)
- Echoes of Nidd (03:39)
- Depression of Surtr (05:03)
- Die alte Essenz einer inzwischen toten Welt (05:26)
- Sylgr Form Essence (06:07)
- Th (07:21)
- Сквозь зарево углей (BulgAryan version) (05:05)
- Лунная кровь (03:49)
- Hail Black Metal Krieg (Part ll) (03:12)
- Гнилий оберемок сивих думок (04:32)
- En As I Dype Skogen (Darkthrone cover) (03:24)
- Illa Tidandi (Burzum cover) (01:42)
Tracks 1 – taken from unreleased at that moment "Der Schein des schwärzesten Schnees" album 2009
Tracks 2/3/4/5/6/7/18 – taken from "A journey to the Vyrdin" album 2008

Tracks 8/9/10/12 – unreleased tracks 2008
Track 11 - taken from 12"LP vinyl split "Iron Age" with Uruk-Hai (Austria)

Tracks 13/14/15/17– taken from "Traurer" album 2007
Track 16- taken from "Archives" best of../comp 2008
Track 19 – is a remastered track from "Verdandi" demo 2008
Track 12 - taken from free download compilation "Voices from the underground #l" under a name "Elite Suicidal Spiritual Art"
First Moloch album released on [Pro-Manufactured] 'REAL' CD.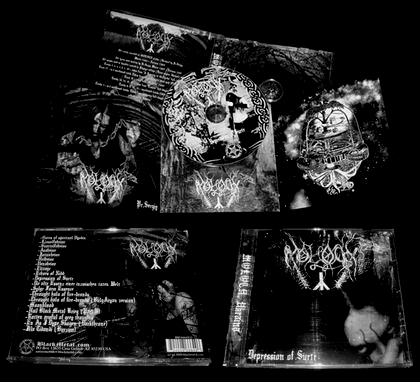 A few words from label website: " Cult misanthropic Slavonic Black Metal from the Carpathian mountains and the deep Underground of a Rivne region village in Ukraina. Raw atmospheric Nordic-influenced style with a very personal touch inspired by BURZUM, and early DARKTHRONE. A predominantly mid-paced, somewhat primitive and necro-ish execution with ringing distorted electric-guitar skirl and anguished grim vocals all contributing to the melancholy, utterly drepressive ['Post-Suicidal'] mood. MOLOCH's distinctive calibre of dark Pagan art elicits tangential, but positive comparisons to PEORDH, I SHALT BECOME, NAZGUL (Spain), and STRIBORG. The cosmic, delirium-inducing attack is even reminiscent of the classic "Dog's Blood Rising" by early CURRENT 93. Other similar bands that come to mind include: BRANIKALD, WOODS OF INFINITY, ENTHRONING SILENCE, VINTERRIKET, the LEGION / PERUNWIT split, and/or early DODSFERD. Unlike other Ukraine bands who defiantly reject Scandinavian culture, MOLOCH chooses to focus on Nordic and Teutonic influences such as Norse mythology and German literature. The majority of the tracks explore themes based on the Nine Worlds of Norse cosmology with titles such as "Svartalfaheimr", "Lyosalfaheimr", "Asaheimr", "Jotunheimr", "Helheimr", and "Vanaheimr". Highly-recommended for diehard fanatics of cult Black Metal, and definitely for those who bravely ignore the dross and mediocrity of mainstream culture, in search of extreme emotion and grim aural sensibilities. This is the first MOLOCH release exclusively for and on BlackMetal.com Records, "Depression of Surtr" is also the band's first full-length album to be officially released on [Pro-Manufactured] 'REAL' CD (Not 'cdr'), an elite tour-de-force featuring many 'previously-unreleased' tracks, rarities, cover-versions of BURZUM and DARKTHRONE songs, and also includes a teaser for the next album "Der Schein des schwarzesten Schnees"). Edition of 1000 copies (Catalogue number: bmc66649cd) with 6 pages b/w booklet. Matrix code: GFR/CA09010371 DEPRESSION OF SURTR. Barcode: 704008666496; Mastering SID Code: IFPI LW44.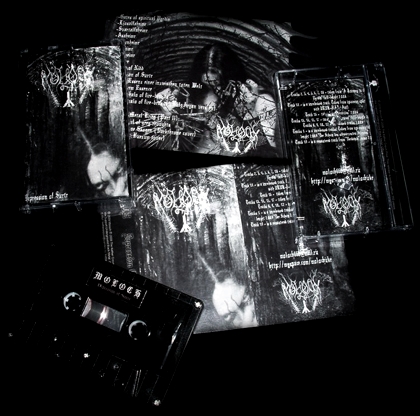 This is Tape edition of The Kether Crown Records (Russian label. now Evil Beasts Distro). Printed in 2010. Limited to 350 copies with 2 sided b/w pro-cover inlay and little tape sticker (Catalogue number: KCMC008).
This is Tape edition of Whispers of Death Records (Germany). Tape limited to 100 copies. Black tape with gold print and yellow snap box with 2 sided b/w pro-cover inlay (Catalogue number: wodr-tape005)