- Ruf aus dem Wald (06:00)
- Pest aus Gefühlen der Traurigkeit (01:12)
- Morast (04:10)
- Give Wotan at mine Kirke var Braendt (03:40)
- Horgabrudar (03:05)
This is rehearsal demo 2007. Re-mastered and re-recorded versions of the tracks (without track 5) from this demo later were includes in "Traurer" album 2007. All music and lyrics written and recorded by Sergiy Fjordsson at rehearsal room between Spring - Summer 2007. Originally only few copies without any cover were made and given to some close contacts. All front and inlay photos for all editions were made by Sergiy Fjordsson at the old small cemetery "Grobnik" in the depths of Rivne town.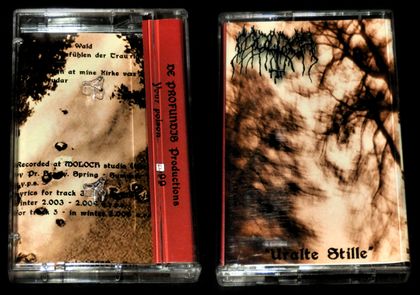 This is first edition, released via my own De Profundis Productions (Ukraine). Cassette tape with one sided color cover printed on photo paper (Catalogue number: Прах 073). Limited to 99 copies.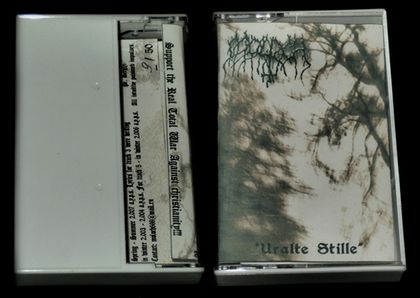 This is edition of Russian label Algiz Productions. Printed in 2007. Limited to 50 copies. Cassette with one sided sepia-color printed cover. Catalogue number: AD-35.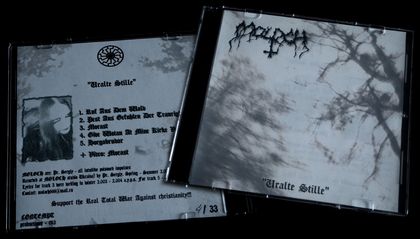 This is edition of Contempt Productions (Algiz Productions sub-label). Printed in 2007. CDR limited to 50 copies with 2 sided sepia-color pro-cover inlay in slim case. Catalogue number: CD-013. This edition includes video "Morast".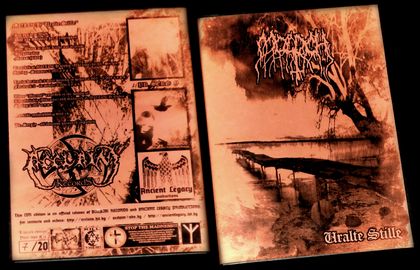 This is CDR edition of Acclaim Records (Bulgaria). Printed in 2007 in cooperation with Ancient Legacy Productions (Bulgaria). 20 copies with red xeroxed cover in dvd case. Catalogue numbers: ALP002 / AR013. This edition also includes
video "Morast" (Recorded in the woods of Ploskyriv /Khmelnitskiy - Ukraine. Spring 2007. This is the first video ever made by Moloch. Very primitive quality or recording and video engeneering.). Author of the front and back cover photos are unknown. Cover designed by the label owner.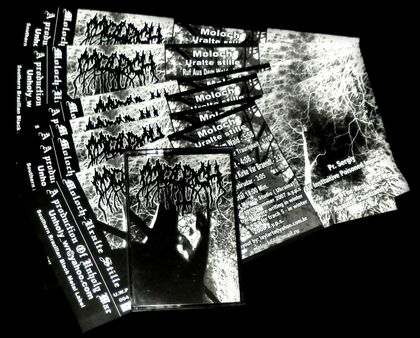 This is edition of Unholy War Productions (Brazil). Printed in 2008. Cassette limited to 1000 (or 500 ?) copies with one sided black/white pro-cover. Catalogue number: U.W.P. 004.


Here are no any Digital, CD and Vinyl versions of this Demo.
****** Lyrics ******
"Morast"

Original
Болью своей срастусь я с лесами...
Водой да болотом просочусь я к корням...
Горькой полынью прорасту на тропе..
Вороньими крыльями взметну над землею...

Отравляю жизнь, да церковный смрад,
серной плесенью да мхом я рождаюсь вновь...
Ты услышь меня, я прошу тебя...
На ветвях, листвою, жизнью угасая...

English translation
With my pain I'll become one with the woods…
With water and mire I'll ooze to the roots…
As the bitter wormwood I'll grow on the path…
On the raven wings I'll soar over the ground…

Poisoning the life and the stench of the churches,
I'm born again as black mould and moss…
Hear me, I beseech you…
Like the leaves on the branches I'm fading out of life…

"Horgabrudar"
Original

Сквозь решетки ветвей.. Напролом и на земь...
Пусть обрушится зима, чтобы рассвет не виден был,
и замерзнут леса, гниль корней убивая,
чтобы рождались отныне в свете черни былой.

Пусть дышит ветрами, сквозь хрипы свои,
и жажду пусть дождь утолит лишь на время.
Раны свои, пусть спрячет в снегах,
где находят покой свой зимние слезы.

Но ведь жизни столбы продолжают стоять.
Пусть поросшие мхом и червями источены в прах,
позабудут о боли, что когда то единством связала их здесь
и, оставив в земле, ушла в никуда чтобы себя возродить.

Уйти бы долой, и скульптурой застыть..
Прорости бы корнями, да тверды снега..
Из отчаяния в боль, хоть и сил больше нет...,
созидать, не цепляясь за прогнившую нить.

Быть может когда то растопят снега (в пламени лет...)
и кровью моей просочатся сквозь земь.
Но время сильней, и цепляясь за плоть хоронит себя.
Оно не бессмертно. не для людей. Пусть созидает с болью моей.
English translation
Through the bars of branches…
Straight ahead and down to the ground…
May the winter fall, so the dawn shall not be seen,
And may the forests freeze, killing the rotten roots,
So since now they'll be born in the light of the old blackness.

Let it breathe the winds through its wheeze,
And let the rain quench the thirst, but only for a while,
Let it hide its wounds in the snows,
Where the winter tears find their rest.

But the pillars of life keep standing,
Although moss-grown and worm-eaten to dust,
They'll forget the pain that once has bound them in unity here
And, having left in the ground, has gone to nowhere to resurrect itself.

I'd like to go away and freeze like a sculpture…
To grow through as the roots, but the snows are hard…
From despair to pain, though there is no more strength…
To create without crutching at the rotten thread.

Maybe one day the snows will be melt (in the flame of the ages)
And soak with my blood through the ground…
But the time is stronger, and clutching at the flesh, it buries itself.
It's not immortal. Not for humans. Let it create with my pain.