A: Puls eines schmerzlosen Universums (04:36)
B: Vor dem Kreis der Dunkelheit (05:38)
Recorded in the beginning of 2014 on Reel-to-reel/open-reel [audio] tape recorder. This was a live recording sessions in the dungeons of Tarakanov Fort, the same place where were recorded "Человечье слишком овечье" album in 2003, but in the deepest underground level of this Fort. Duophonic analog keyboards, guitars, tube amplifiers and analogue seven-inch tape recorder were used for this recording. All music/song structures were written and recorded by Sergiy Fjordsson. Images that were used for design is a mix of ancient Egyptian calendar and Petroglyphs from Val Camonica that represent an image ancient astronauts.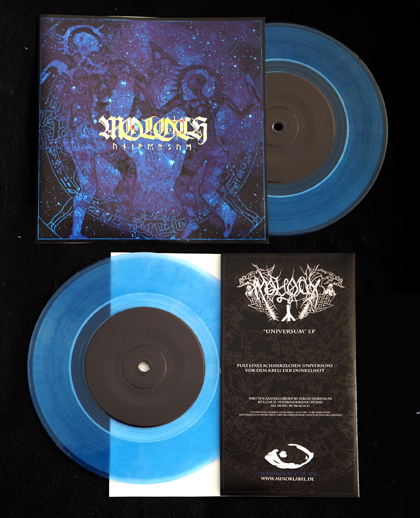 This is edition of Minor Label (Germany). Blue 7" vinyl comes with postcards (postcards with special lacquer and hidden stereoscopy print), mini-cards (with special lacquer print) and stickers. Die-hard copies comes also with patch. Limited to 163 copies. Matrix / Runout (Side A [scratch]): Minor Ater A; Matrix / Runout (Side B [scratch]): Minor Ater B.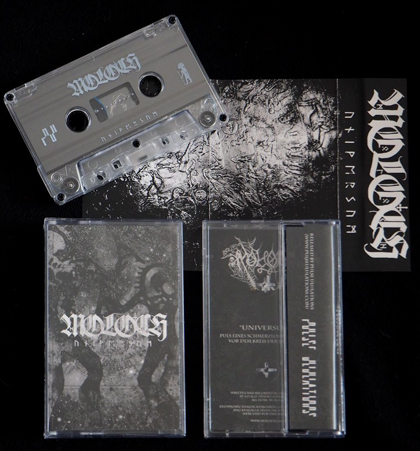 This is cassette edition of Pulse Ululations Records (sub-label of Equinox Discos from Spain) in 2015. Pro-Tape with 2 sided b/w inlay. Limited to 100 copies. Catalogue number: [PULSE01]
Few more tracks (full reel-to-reel on both sides) were recorded during this live session, but still remain in the archives and may be published in the future.
Here are no CD version for this EP at the moment.