1. Kataxu (Pol) "The Mantra Of Death" (New and unreleased song for this tribute)
2. Xantotol (Pol) "Intro / Conqueror"
3. Xantotol (Pol) "Coming The God Race"
4. Sunwhell (Pol) "Monuments Of The Elder Faith"
5. Ereshkigal (Mex) "The Gates To The Kingdom of Darkness" / GRAVELAND
6. Catacomba (Usa) "Masakra Wrogów Poganskich Bogów" / MYSTERIES
7. Pulsar Colony (Usa) "Following The Voice Of Blood" / GRAVELAND
8. Eztlacuani (Mex) "Thurisaz" / GRAVELAND
9. Astarium (Rus) "Black Metal War" / GRAVELAND
10. Ravendark's Monarchal Canticle (Bra) "Conqueror" / XANTOTOL
11. Neccrostrigis (Pol) "Warriors Of Fullmoon" / LEGION
12. Moloch (Ukr) "The Night Of Fullmoon" / GRAVELAND
13. Hiraeth (Usa) "In The Glare Of Burning Churches" / GRAVELAND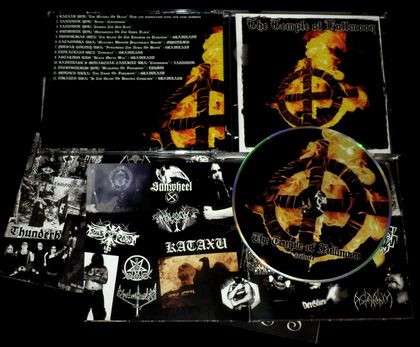 Tribute CD to the Polish Black Metal circle "The Temple of Fullmoon". Moloch track recorded special for this tribute (line up: Sergiy Fjordsson - All instruments and vocals; Gionata Potenti - session Drums). CD released by Azermedoth Records (label owner: Marganor Bestial Invocator). Limited to 500 copies. Cover art design by Sergiy Fjordsson.