SOCIALISTIC JONNY GOBLET:
- Dead civilization (02:17)
- Living with nothing (02:58)
- This world ain't no good (03:13)
- No more sun (01:22)
- Can't grow no food (03:31)
- Wasteland earth (04:24)
MOLOCH:
- Part fff-I (08:36)
- Part fff-II (06:19)
- Part fff-III (01:36)
- Part fff-IV (03:51)
This is experimental split with USA noise project Socialistic Jonny Goblet. Experimental collaboration with tracks based on Moloch's earlier black metal material, but infused with different noise/screams elements by G.R. from DOG / XA-MUL (U.K.). Track 1 based on track "Ruf aus dem Wald" from "Uralte stille" demo 2007. Track 2 based on track "I see the end of wormhuman swampworld" from "Archives" 2008. Track 3 based on track "Pest Aus Gefuhlen Der Traurigkeit" from "Uralte stille" demo 2007. Track 4 based on track "Give Wotan At Mine Kirke Var Braendt" from "Uralte stille" demo 2007. Socialistic Jonny Goblet tracks recorded in October 2007 by Stan (Noise & Destruction) and Sciron (Sounds of fury).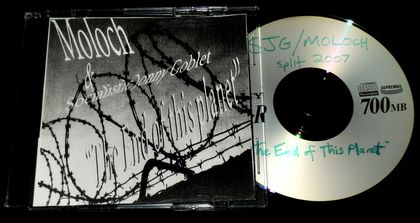 The only one and last edition of this split was released by USA label Reality Impaired Records (owner are a member of Socialistic Jonny Goblet). Limited to 100 copies with xeroxed cover inlay. After a tornado destroyed the house of the owner, this label now based in Salt Lake City based (early in Joplin, MO). Front cover photo were made in Radiozavod territory of Rivne town. Catalogue number: RIRCD054.