Moloch - Intro: Безмолвие в сострадании..
Moloch - Сквозь зарево углей
Iscariot - The ones walking in the night
Crypt - Wintry forest empire
Кречет - Троянов век
Drama - Winter in my mind
Dictator - Guimplen
Anchoreth - Ночь возмездия
Bloodrain - Лейся, кровь!
Nocturnal Supremacy - Зима
Moloch - Outro: На земь, да и кровью..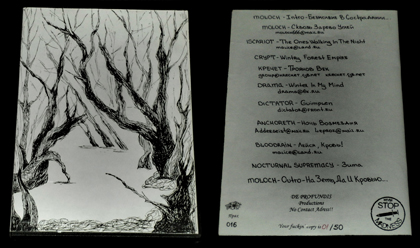 This release is the first compilation made by De Profundis Productions (a old label of Sergiy Fjordsson). Were released between 2004-2006 as standart CDR in dvd case with b/w xeroxed cover (can number Прах 106) and limited to 50 copies. Tracks for this compilation were taken from "Чернее чем тьма" demo 2004.