MOLOCH:
- Weg von dieser Welt voller Traurigkeit (04:27)

GLASS COFFIN:
- When ravens black out the sun (04:41)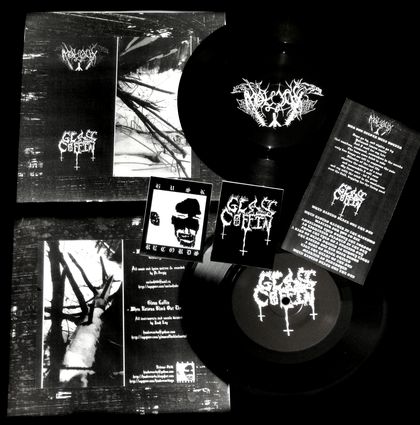 Label description: "Moloch(Ukraine) / Glass Coffin (Usa) split 7". Two one man Black Metal projects unite to reign over the weak with depression and hate.Moloch's message of nature obsession, depression,and misanthrope has covered a lot of ground with several releases spanning all over the world on many labels and formats, including a cassette on Husk Records earlier this year. Glass Coffin is hellbent on the preservation of the old glory days of Black Metal. Buzz saw guitars, fuck off attitude, shrieking gutteral puked vocals and total Hellhammer worship. 7'EP black vinyl. Limited 200 copies (+ 3 test press copies !!) with 2 stickers and small inlay with lyrics. Released by Husk Records (Independent Kentucky-based record label, operated by Josh Lay (Temple of Rot) and Morgan Rankin (Swamp Horse, Gnarly Sheen, and Cadaver In Drag))". Matrix / Runout (Side A [scratch]): RBR 014 - AR016933-A. Matrix / Runout (Side B [scratch]): RBR 014 - AR016933-B.