Moloch:
- Supreme Ephemeral Darkness (08:20)

- Sanctuary of the Immortals (Magnificence of a Black Temple) (06:10)
Legion of Doom:
- L' Entite Noire(05:48)
- Tekmor (06:17)

Split with formation Legion of Doom from Greece. Moloch tracks: All Guitars (Lead, Rhythm, Acoustic), Bass (Acoustic, Distorted) and Vocals recorded at S.o.h.D. studio (Ukraine) by Sergiy Fjordsson. Drums recorded at BeastCave Studio (Italy) by Gionata Potenti. All music and lyrics written & recorded between between 2014-2018. Mixed and mastered at Black-Square-Music-Studio, Finland. Legion of Doom tracks: Recorded during August/September 2017. Mixed in October 2017. Produced by Astraios. "Tekmor" written and recorded by Sergiy Fjordsson. Layout and front cover collage also by Sergiy Fjordsson.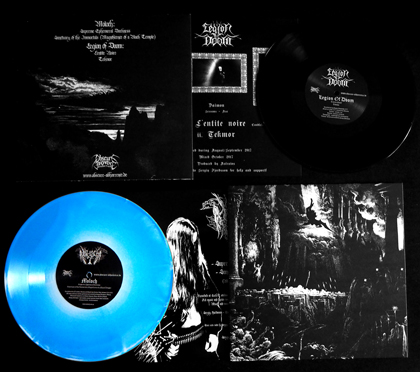 Released by Obscure Abhorrence Productions (Germany). Limited to 500 copies (400 on black 10" + 100 on deep blue 10" vinyl). Comes with inlay.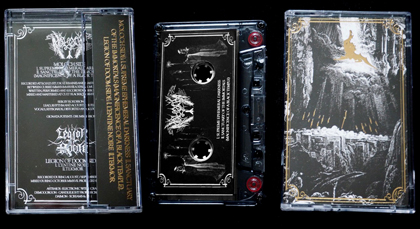 Tape version of Ephemeral Productions. Limited to unknown amount of copies (100?). 2 sided black/white pro-cover with gold print. Cassettes with stickers on both sides. Catalogue number Ep001. No any label name, contact and catalogue number on the cover.