MOLOCH:
- Wenn die Sterne nicht mehr scheinen (04:21)
I SHALT BECOME:
- Dreams from the Wasteland (04:31)
Split release with Dissonant Atmospheric Black Metal formation from USA - I Shalt Become. Moloch track written and recorded by Sergiy Fjordsson between Autumn 2012-2013 at S.o.h.D. studio. Session female voices on this track by Lilita Arndt. I Shalt Become track written and recorded by S. Holliman in August 2013. Originally this split planned to be released more than 1.5 years ago via German label Darker Than Black Records, but due to unforeseen problems that occurred in Hendrik Möbus life (head of the label), the publication of this split was postponed and eventually it was decided to issue a split on another label. Also due the time-limit of the 7" side, we had to remove track I Shalt Become "Parthenogenesis" (which it was originally scheduled for this split). Maybe later this track will be included as bonus on tape version...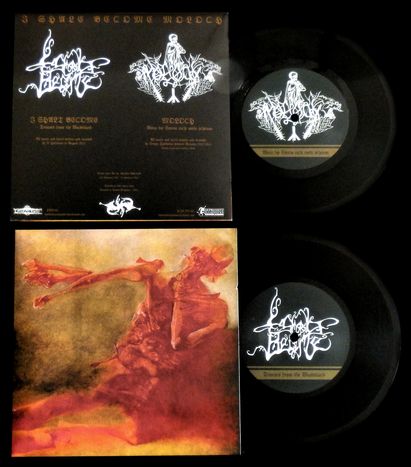 This is 7"Ep vinyl edition of Locust Amber Records (catalogue number: LAR003) in cooperation with Depressive Illusions Records (catalogue number: DIR-EP-001). Limited to 100 copies. Matrix / Runout (Side A [scratch]): HPO LAR 003 A; Matrix / Runout (Side B [scratch]): HPO LAR 003 B. Each copie comes with free download card. Front cover art was made by Zdzisław Beksiński.

Digital version available via Moloch bandcamp page only if you have a secret download code that comes with each 7".