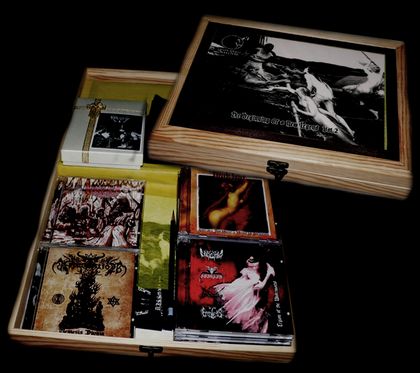 Fap050) The Beginning of A New Legend Vol.2
Wooden Box-Set (Repackage Album), Limited 7 Copies
Special label edition compilation that included many releases from the Fallen Angels Productions label roster and available only via label web-shop.


1. 10CDs
AngeL01) Moonkult (Finland) - Profane Nightmare of Seers
AngeL02) Apparition (Korea) - Nemesis Divina
AngeL03) Infuneral / The Last Knell - Split Album
AngeL04) Uruk-Hai - ... And all the Magic and Might he Brought ...
AngeL05) Aura Negativ (Spain)
AngeL06) Krigere Wolf (Italy) - Sacrifice to Valaskjalf
AngeL07) Catacumba (Brazil) - Kratos
AngeL08) 4 Way Split - Region of the Underworld
AngeL09) Dark Plague (France) - Perverse Devotion
AngeL10) Taekaury (Korea)- Spirit of Koguryo

2. T-Shirt
Besatt's Black T-Shirt

3. 2Tapes Box-Set
Moloch - Spectral Shades of the Spiritual Negativism

4. POSTER, STIKER, ETC...