MOLOCH:
- Der Ewigkeit entgegen l (08:11)

- Einsamer Platz zu sterben ll (06:29)

VOIDSTAR:
- Avenue de France (02:54)

- Six Months can be a long time (03:40)

- Spiral depression (06:15)
Split with Harsh Ambient project from Switzerland - VOIDSTAR.
Moloch Side: Cold and Atmospheric Dark Ambient from Winter Carpathian lands. A journey to the forgotten place of the lost spirits, where the mighty Unknown is not abstract concept, but rather a permeating experience far away from human world and broken reality. Toward eternity. To the lonely place to die... For fans of MORTIIS (Era l), VOND and old BURZUM. Recorded on Reel-to-reel/open-reel [audio] tape recorder in pseudo-Stereo-mode somewhere in the woods of Carpathia by Sergiy Fjordsson between Autumn-Winter 2012-2014 (Ukraine). All sounds represent a real-time-recording, along with background sounds of the open place and atmosphere/effect of the place acoustics. Photo was made at the same place. Track "Einsamer Platz zu sterben ll" previously released on "Einsamer Platz zu sterben" 7". Track "Der Ewigkeit entgegen l" recorded for this release only.
Voidstar Side: A journey into Dark and Harsh Ambient sounds, reflections of an equally harsh illness. Recording and collage by Philip Jespersen (Switzerland).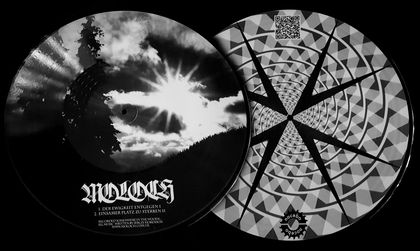 This is picture 12'LP vinyl edition of Nocebo Records (label run by Philip Jespersen from VOIDSTAR). Limited to 247 copies. Each copie comes with free download card and small info sticker on the front of plastic bag.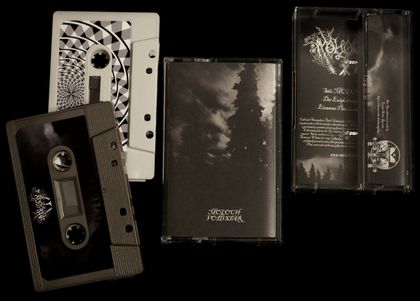 This is cassette edition of Locust Amber Records (United Kingdom). Limited to 52 copies (26 grey cassettes and 26 brown) with 2 sided black/white pro-cover cover.
Digital version available via Moloch bandcamp page and via label page (if you have secret download code that comes with each LP).