side MOLOCH:
- D. V. e. s. H. (06:12)
side EVIL:
- A Fierce Lighting Towards the Firmaments of Death (04:55)
Split with Brasilian Black Metal band EVIL. Moloch and Evil tracks recorded between 2010 and 2012.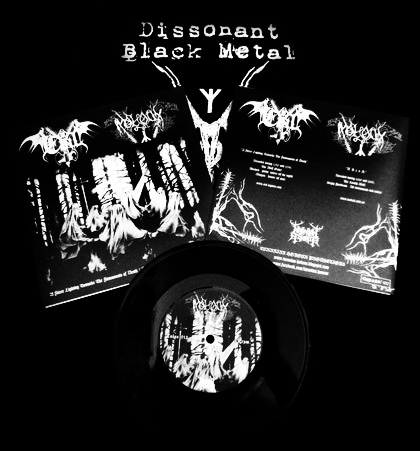 Black 7'EP with 2 sided gatefold-like cover art limited to 100 copies released by Turanian Honour Productions (Hungary) in 2013. Cat-number: Turan013. Matrix / Runout (Side A [scratch]): TURAN 013 -A-. Matrix / Runout (Side B [scratch]): TURAN 013 -B-.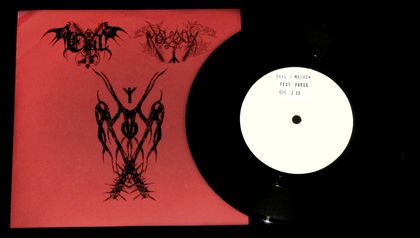 Label also spread 15 test press copies with red xerox cover.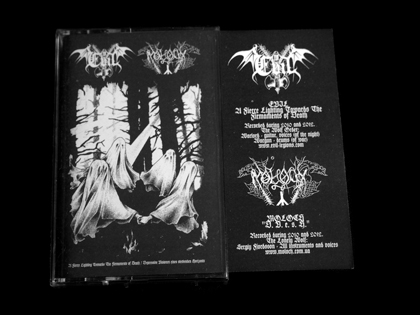 Tape version limited to 1000 copies was made as cooperation between Hammer of Damnation (Brasil) and Depressive Illusions Records (Ukraine). Standart clear cassette with 2 sided pro-cover.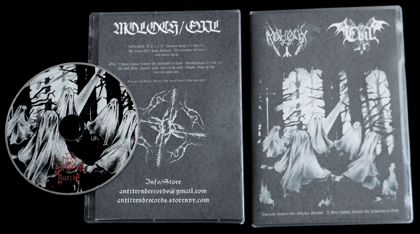 CD version released via Anti Trend Records (Usa). Limited to 666 copis in DVD case. Matrix code: MZL2800 disk makers. Mastering SID Code: IFPI LZ72. Cat. Number: ATRCD CD003.
Cover art painting by Maxime Taccardi. Design by Sergiy Fjordsson.