1.Wolfenhords(Croatia) - War (Intro) 2:43
2.Theudho (Belgium) - Det Som En Gang Var 14:23
3.Moloch (Ukraine) - Erblicket Die Tochter Des Firmaments 7:25
4.Ceremonial Castings (US)- Black Spell of Destruction 5:45
5.Lugburz Sleed (Ukraine) - Dunkelheit 4:45
6.Dies Nefastus (Belarus) - My Journey to the Stars 7:35
7.Aeongrave (Korea) - Key to the gate 5:07
8.Moloch (Ukraine) - Gebrechlichkeit I (Outro) 5:29
9...... ( Bonus, hidden track ) Total Time : 58:45
Tribute to BURZUM, arranged by Korean label Fallen Angels Productions and included bands from Belgium, Ukraine, Croatia, Korea, Belarus and USA.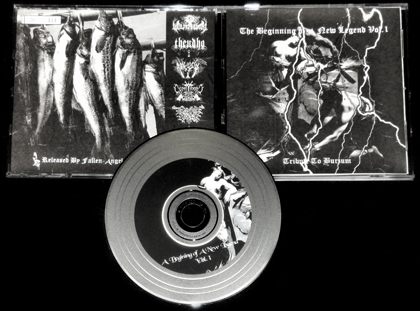 Released by Fallen Angels Productions (Korea), limited to 114 copies with 4 pages b/w cover printed on traditional Korea paper "hanji". Catalogue number: FAP006. Front cover author by: François Perrier. Back cover photo made by Jang Jae-Won. All desine edit by Baek Jong-Cheon.