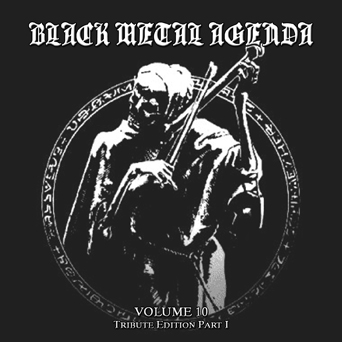 01. Lustre (Mlt) - Blood Fire Death (Bathory cover)
02. Throne Of Malediction (USA) - Bloodlust And Perversion (Carpathian Forest cover)
03. Halla (Irn) - Over Mountains And Through Thorns (Darkthrone cover)
04. Wolfskrieger (Ita) - Pesttanz (Absurd cover)
05. Antiquus Scriptum (Prt) - Skeletons Of Society (Slayer cover)
06. Barad-Dur (Gbr) - Song To Hall Up High (Bathory cover)
07. Twilight Burial (Bra) - Massacra (Hellhammer cover)
08. Bethroned (Hrv) - I Am The Wooden Doors (Agalloch cover)
09. Ritualmord (Aut) - Evil (Mercyful Fate cover)
10. Moloch (Ukr) - Gebrechlichkeit I (Burzum cover)*
Free-download compilation made by Black Metal Agenda Productions (NET-label). Moloch track taken from "Nur die Berge erinnern sich der Winde die hier ihren Anfang fanden vor so langer Zei".