ЛЮТЕНЬ (00:00 - 06:12):
- Retribution
- Penetration
- Break of soul- Unity in various of lonely souls
MOLOCH (06:13 - 24:46):

- Berkana
- By the wind the pain give born on the way
- On overgoved paths..

AD NOCTUM (24:47 - 30:04):
-Unity in Various of Lonely Souls
- When peoples go away from yourself
URUK-HAI (30:05 - 42:38):

- Nameless demo track 2
- Nameless demo track 2
Split release with Лютень (Rus), Ad Noctum (Rus) and Uruk-Hai (Aut). All tracks have been recorded back-to-back, effectively forming one long piece although as the music progresses the different moods captured by the various bands becomes clearer. Mastering and effects (Nature sounds betwen tracks) made by Hugin. Moloch tracks recorded in the same period when recorded "Meine alte Melancholie " album 2007. Original Russian title of split "Хворост" - literally "brushwood".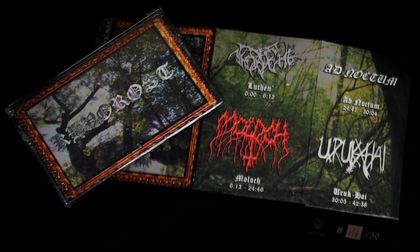 The only one and last edition of this split was made W.A.R. Productions (Austria. A label of Hugin.). Cassette limited to only 50 copies. No track list on the cover inlay, just bands logos and total time of tracks together. Cover inlay are color and one sided, without label logo and catalogue number. Layout by Hugin.