CD 1: Ginnungagap (01:11:27)
CD 2: Galdr (01:09:11)
Compilation of two long Ritualistic Drone Dark Ambient tracks. Recorded between Winter-Autumn 2008 on Reel-to-reel/open-reel [audio] tape recorder in pseudo-stereo mode at MOLOCH studio (Ukraina). Only electric bass, pedals, duophonic analog keyboards "Поливокс" and soviet microphones/equipment were used for this recordings. All music/song structures were written and recorded by Sergiy Fjordsson. CD 2 also released separatelly in 2008 as "Galdr" album and both CD1 & CD2 were includes in "Lebensabend" boxsed set 2008.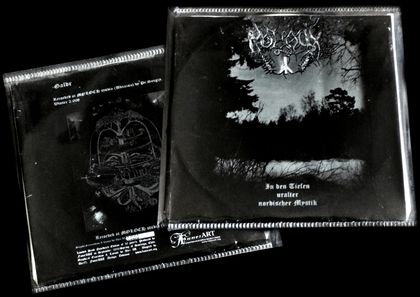 The one and only edition of this release printed by FunerART label from Chile. Catalogue number: FA012-1. Double CDR with one sided semi-color cover in plastic sleeve.
Not sure, but possible remastered version of this release will be published in the future on Moloch bandscamp or re-released on reel-to-reel tape.