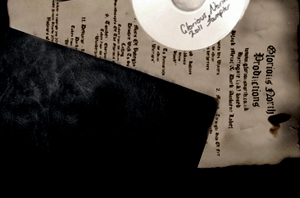 1. Moloch
2. Moloch
3. Pantheon of Blood
4. Lycanthropy
5. Deviator
6. Howling in the Fog
7. mists of Poveglia
8. Lycanthropy
9. Tomhet
10. Howling in the Fog
11. Deviator
12. Moloch
Promo CDR sampler made by Glorious North Productions (United Kingdom). Limitation and detailed track list I dont know. Plain CDR with ancient burn paper with track list housed in A5 black paper package.